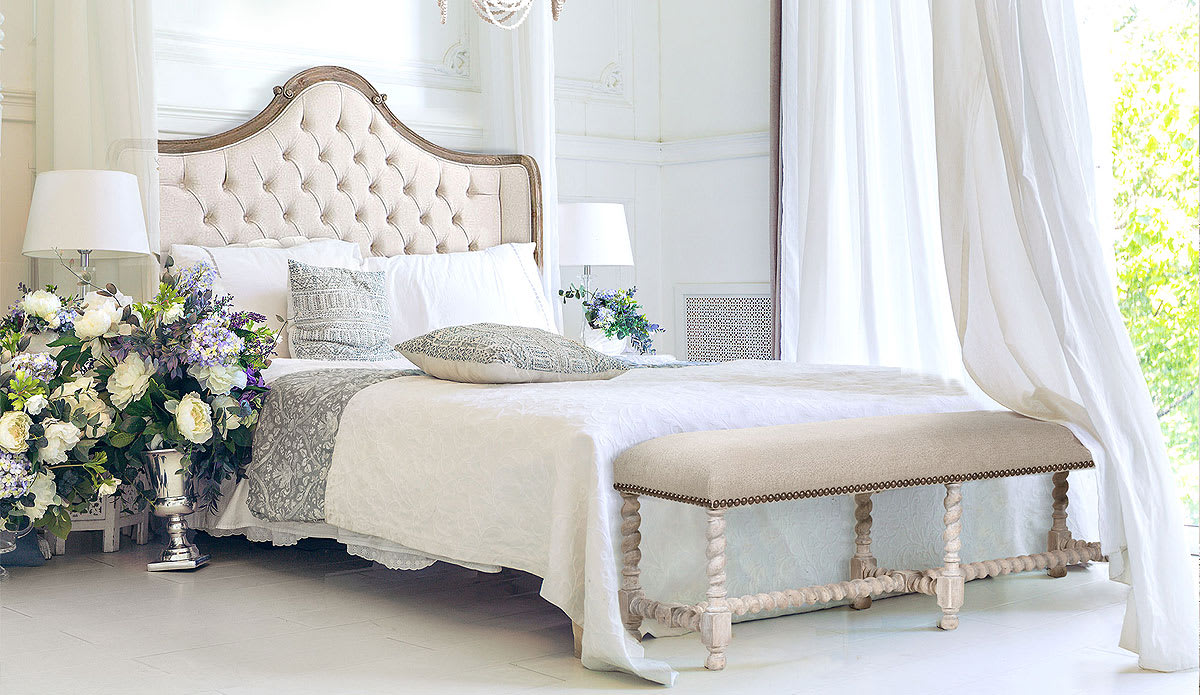 Queen size bed measurements in the UK
Queen size bed frames are the perfect choice for many homes, but it's important to know the dimensions so that you can see what they might look like in your room for the months and years to come.

A Queen mattress in the UK is 120cm by 190cm, but other countries have different dimensions and units of measurement, which can make the whole process unnecessarily complicated.
We have the ultimate guide with everything you might need to know about the queen frame to help make picking the right piece to feel as simple as falling asleep.
Is the UK double bed the same as a queen bed?
There are different sizes and names across other parts of the world, which can make understanding a queen size feel complicated. Essentially, a queen bed in the UK is a small double bed. The UK double has a measuring length of 4"6 by 6"3, and the UK queen measures 4ft by 6"3, making it 6 inches less wide than the double.
This should seem fairly simple, but the United state's sizing makes it trickier, as their queen bed is larger than their double bed. To keep things simple, if you are looking for a UK size, try finding products with dimensions in the metric system units of length rather than the customary unit of the imperial system. There is no international system of units when it comes to these sizes, so it's best to keep things simple!
Related: Double Bed Sizes In The UK
Why choose a queen-size bed?
A queen size can be an ideal option for many people considering investing in a new frame or mattress. Because of the petite measurements of this piece, it is perfect for maximizing small spaces whilst retaining the charm of a fuller bedspread. Compared with a king-size, this choice is easier to transport, allowing you to rearrange and experiment with interior styles easily.
Having the additional floor space a queen provides can be the perfect way to make room for a bedside table or two. A queen-size allows for a luxurious single sleeping experience, with more space to stretch out in than a single size. On the other hand, it is a lovely solution for couples in a smaller room for those who like a smaller, more intimate space.
Factors to consider when buying a queen size bed in the UK
Since you spend a third of your life in it, making the right decision about your bed can feel important and daunting. This isn't made easier by the different shapes, measurement systems and names which can be so complex. Because buying these pieces isn't a simple task, it's good to consider all factors before making the investment.
Related: Buy French Style Classic Bed Online
Use these factors whenever you consider buying a queen size bed:

1. Who will be using the bed?
A smaller mattress, such as a twin XL or full size, will suffice if you always intend to sleep alone. However, if you'll be sharing the space with a partner, a child, or a pet, the larger queen-size mattress could be much more suited to you.
Although a queen-sized mattress is a common choice for couples, for some, it may feel too small, especially for very tall people or individuals who need a generous amount of sleeping space.
Related: Buy Monique Dusty Rose Buttoned Bed Online
2. The size of your room
A queen-size would work well in bedrooms at least 10 feet by 10 feet. If you buy a queen size for a room smaller than this, it could take up additional space and make manoeuvring around your bedroom furniture difficult. Some prefer the more petite frame to make a smaller space feel more proportionate, while others think that having a queen size in a larger area can expand the room.
3. The size of the frame
Some queen frames are three to five inches broader than the mattress size to provide plenty of support. As well as this, some frames can increase the visual weight of a piece and make it appear larger, for example:
Solid wood frames
Panel frames
Headboards or footboards
Sleigh frames
Upholstered beds
Heavy box springs
Storage frames
A platform bed
If your space is limited, the ideal frame to buy is a rail frame or a slim metal frame, as these are closer to the size of the mattress.
4. Your sleeping style
Everyone has different preferences around how much space is needed for a good night's sleep. Comfort is a highly personal experience, so whilst some people enjoy being wrapped up snuggly, others find it more comfortable to be stretched out. Your preferred sleeping style is an essential factor to consider when buying a frame or mattress for the ultimate feeling of relaxation.
5. Accommodating visitors
Since the queen size fits nicely in an average room, it's a good choice for a guest room. This size piece can comfortably accommodate several people; a single person, a couple or a few children, making it a versatile solution for every hosting situation.
Overall
It's understandable why the Queen bed is such a popular size. Its sensible, versatile dimensions can be relied on to last you through many situations for years to come. It's ideal for both independent sleepers looking for the luxury of a little more space and also couples who enjoy being close. Hopefully, you now feel informed about exactly what a Queen size entails and whether it is the right option for you!