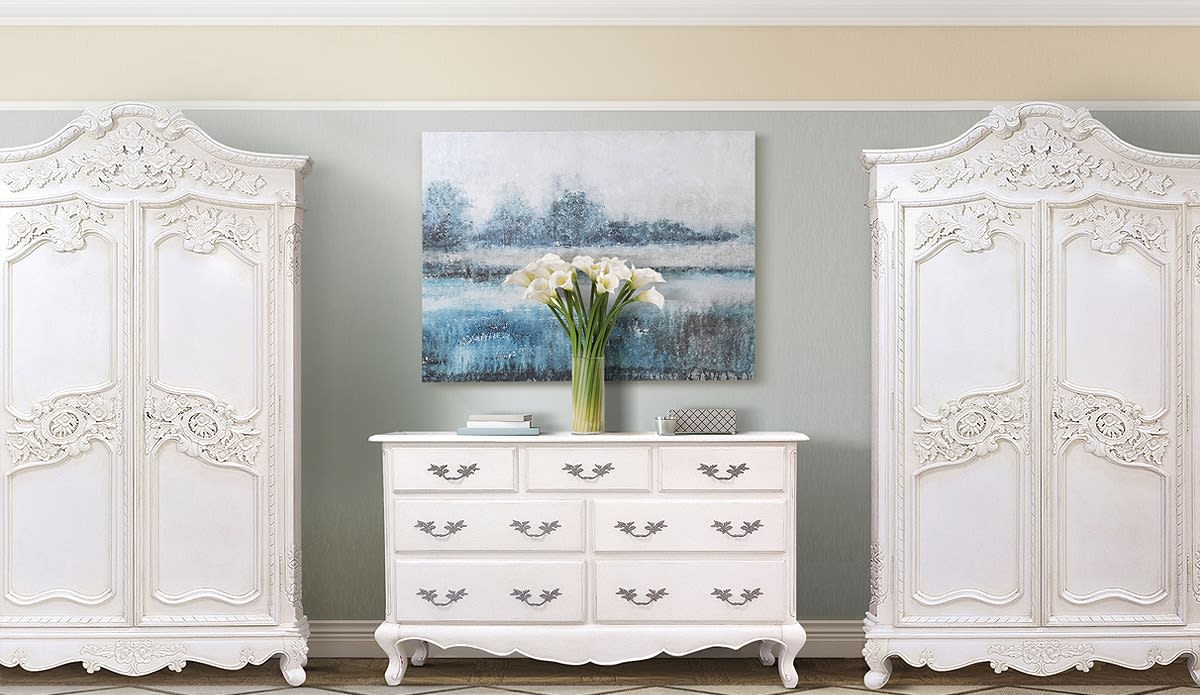 How to choose the perfect wardrobe for you
Looking for a new wardrobe? You've come to the right place. We've got lots of options, including single wardrobes, mirrored wardrobes – we've given you the lowdown on them all. Find your need-to-know info is in this guide – like how to choose the right size, style and material.
Wardrobe size
If your room's on the small side, opt for a single or sliding door wardrobe. Our small wardrobes start from 600mm wide for a single, and 950mm wide for a two-door. Those who have a modest amount of clothes can usually get away with one of the above, while clothes-hoarders will need a double. We also offer some triple wardrobes for those looking to make a statement.
But it's what's inside that really counts. If you prefer folding to hanging, then you'll want a wardrobe with ample drawer space, such as our French Style Oak Large Wardrobe. Likewise, if you have lots of coats and dresses to hang, your best bet's a taller wardrobe with two rails.
There are three measurements you need to take when sizing up for your new wardrobe: width, depth and height. Measure the space you've got available, then allow 100mm to the side and 80mm above to make sure you've got enough room for hinges and assembly. Consider the floor space in front of your wardrobe, too. No wiggle room? No problem. Sliding wardrobes are a great option because you don't need to factor in any inches for outward-opening doors.
Wardrobe finish
When choosing the perfect finish, consider the style of your room. Wooden wardrobes – either plain or painted in grey, white or blue – work best in cosy-but-muted bedrooms, paired with lots of textiles and texture. We recommend our Cotswoldian Grey 2 Door 2 Drawer Wardrobe. Mirrored wardrobes with metallic or monochrome frames suit rooms that require a little more drama.
How to look after your wardrobe
If your wardrobe is made from a natural material, consider positioning it away from sunlight to prevent it from fading or swelling.
When it comes to cleaning, just wipe down your wardrobe with a damp cloth if dusting doesn't do the trick. Avoid using a harsh cleaner or abrasive chemicals, as this can damage the surface.
To clean your mirrored wardrobe, use a glass cleaner or damp cloth, and diagonally wipe the whole door. Then, use a dry cloth to buff out any smears.
FAQs
How do I adjust wardrobe door hinges?
The hinges on wardrobe doors can be tightened or loosened to move the doors closer together or further apart. Turn the hinge screws clockwise to move your doors towards the wardrobe's frame.
Is a hinged wardrobe the best choice for my bedroom?
Hinged wardrobes let you see all your clothes at once – ideal for anyone who finds outfit decision-making tricky. If you've got a large clothing collection, they're a great choice. Plus, they're pretty easy to build.
How do I measure for a sliding wardrobe?
Grab a tape measure and check the height, width and depth of your space before you start shopping. You'll also need to allow enough clearance at the top and sides for manoeuvring during installation. Sliding doors don't open outwards, so are space-savvy, but if the wardrobe that you're eyeing up has drawers, don't forget to measure the floor space in front, too.
How do I build a frame for sliding wardrobe doors?
You can fit freestanding sliding wardrobe doors in three quick steps:
1. Fit your top track to the ceiling
2. Fit your bottom track to the floor
3. Lift your doors into place
How much should sliding wardrobe doors overlap?
Usually sliding wardrobe doors overlap by 75%, which leaves enough room to see your clothes when they're open.
Can I adjust my mirrored wardrobe doors?
Yes. Mirrored wardrobes tend to have sliding doors, which can be tightened and tweaked over time to keep them in place.