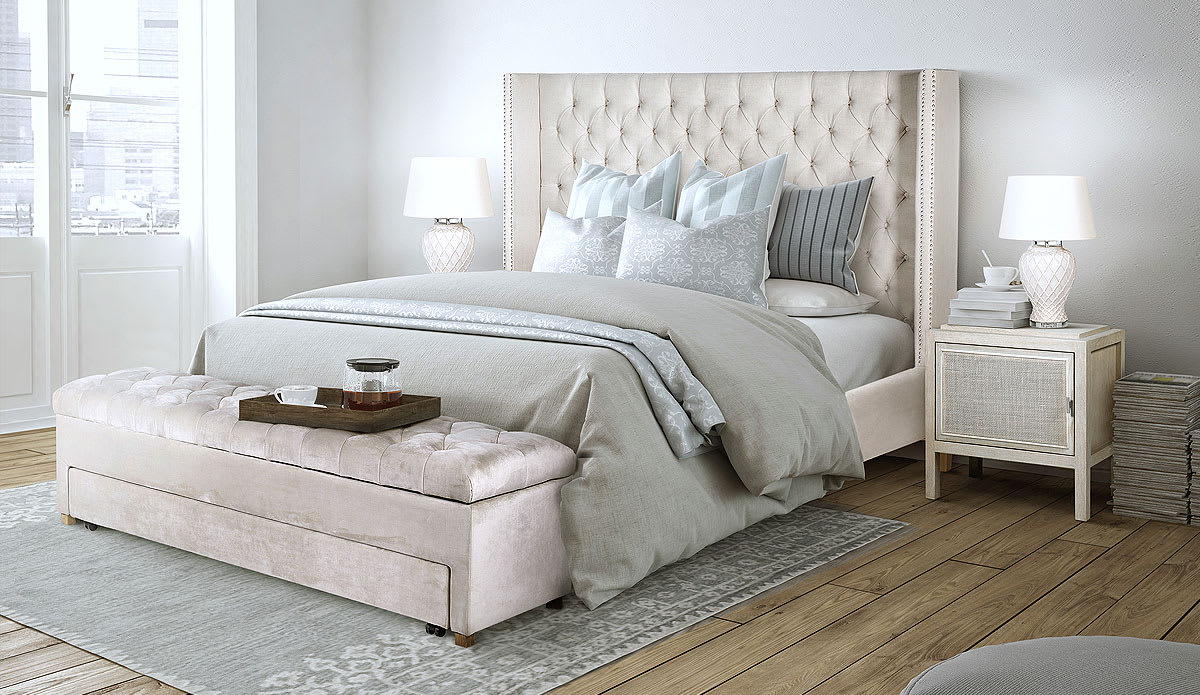 UK bed and mattress sizes guide
The average person spends one-third of their life asleep, so it makes sense to want to find the perfect place to spend this time. Having a comfortable, restful space to sleep is essential to a relaxed lifestyle, but despite this, picking the right bed and mattress can be difficult.

Luckily, we have the ultimate bed buying guide for you with everything you need to know in this article to help you get a good night's sleep, including which bed and mattress are right for you. Let's make sleeping as simple as possible.
How to choose the right bed size?
Picking the right size of the bed can feel unnecessarily complex. To de-mystify picking the perfect size, here is a list of all the components you might want to consider.
Length of the bed
The length of a bed shouldn't be overlooked- the ideal length of a bed should be a minimum of 10cm longer than the height of the tallest person going to use it. The extra length will ensure that no one is forced to sleep in a foetal position to fit on the bed.
Width of bed
Bed width is a choice dependent on your own personal preference. The majority of couples in the UK use a standard double mattress and bed. While this works for many, some find that having only 135cm (4ft 6") each can cause a disturbance, especially for light sleepers when their partner changes position. Sleeping space can also allow for more temperature regulation for couples who find sharing a smaller bed can make them overheat.
Different bed sizes
Let's look at the measurements found for different types of beds. Modern beds or mattresses available in the UK use dimensions in feet but are commonly sold in centimetres.
UK Mattress Sizes

Bed/Mattress

Super king

King

Double

Small double

Single

Small single

Dimensions W x L (cm)

180 x 200

150 x 200

135 x 190

120 x 190

90 x 190

75 x 190

Dimensions W x L (feet)

6.0 x 6.6

5.0 x 6.6

4.6 x 6.3

4.0 x 6.3

3.0 x 6.3

2.6 x 6.3
1- Small single
Small single beds and mattresses are ideal for saving space in smaller rooms. They are specially designed with toddlers moving from cots to beds and guest rooms in mind.
Dimensions: 75cm wide and 190cm long (2'6" wide and 6'3" long)
Ideal For: Children around four years old, limited room space and guest beds.
2 - Single bed
A single bed is a standard single bed size and the most common option for teen beds, bunk beds, and individuals.
Dimensions: 90cm wide and 190cm long (3' wide and 6'3" long)
Ideal For: Individuals
3 - Queen sized double bed
A small double bed, also known as a queen-size bed, is suited for either one or two people. It is also worth noting that a small double bed is ideal if you are looking for a divan bed or ottoman base to maximise storage space.
Dimensions: 120cm wide and 190cm long (4' wide and 6'3" long)
Ideal For: 1 or 2 people and small bedrooms.
4 - Standard double bed
The standard double bed size is a more comfortable fit for two people than the Queen size.
Dimensions: 135cm wide and 190cm long (4'6" wide and 6'3" long).
Ideal For: Two people and medium size bedrooms.
5 - King size double bed
A king-size double bed can also be called a standard king-size bed. The King size bed is longer and wider than standard double beds, making them perfect for leg space and taller individuals.
Dimensions: 150cm wide and 200cm long (5' wide by 6'6" long)
Ideal For: 2 people and people with a height of more than 190cm/6ft 2inches.
6 - Super King size bed
If you associate true comfort with space, the Super King size bed is ideal. It is no longer than the King size, but it has additional width, making it suitable for couples who like to stretch out and fully relax. As the largest bed size in the UK, it is perfect for larger bedroom sizes.
Dimensions: 180cm wide and 200cm long (6' wide by 6'6" in length)
Ideal For: 2 people or more, larger rooms, and those who prefer extra space on the bed.
What mattress types are there?
A soft mattress can be the key to feeling refreshed and recharged. Whether you sleep on your stomach or are a couple who sleep on your left sides, everyone's sleeping positions feel better on a supportive sleep surface.
1- Standard Pocket Sprung Mattresses
Each pocket spring is individually placed and enclosed within its fabric pocket in a pocket sprung mattress. These springs mould to follow body contours and provide back support. You can always add to this option with a top layer or mattress toppers for a touch of luxury.
2 - Multi Sprung Mattresses
These mattresses consist of smaller, lighter springs than the standard pocket sprung mattress, with a higher spring count of between 3000 to 6000 springs. This versatile, flexible option could always be added to with a layer of memory foam, depending on your sleeping preference.
3 - Bonnell / Traditional
The traditional mattresses have hour-shaped springs running from east to west. These mattresses vary in spring height, number of turns and thickness of the spring wire. This classic choice works well for a range of beds- from upholstered beds to a cosy corner sofa bed.
4 - Open Coil Mattresses
The springs in these mattresses are connected by wireframe, perfect for supporting all body types. While this is often an affordable option, on open coil mattresses, you may be able to feel the movement of the other person on the bed.
5 - Visco Elastic Mattresses (memory foam)
The material of Memory foam mattresses significantly minimises tossing and turning by fitting around the body contours and maintaining a constant temperature. Evenly distributing body weight and pressure over the layers of foam makes this one of the most comfortable mattresses.
6 - Latex Mattresses
Made out of 100% latex, these mattresses are highly durable, hypo-allergenic, anti-microbial and dust mite resistant. What's more, it allows for full anatomical support from head to toe by adjusting to your body's shape and distributing your weight evenly to provide comfort and relief to pressure points. Because of its breathable structure, it's easy to keep warm in both winter and summer.
7 - High Resilient Foam Mattresses
High Resilient Foam Mattresses have polyurethane foam, also called comfort foam, a fine blend of polymer or graft polyols, with greater density, making it much firmer than polyether. While it supports the contour of your body shape, it quickly returns to its initial shape. This mattress is a traditionally cheaper option making it perfect as a hybrid mattress for both the living room and bedroom when added to with comfort layers of cushions and blankets.
Summary
Hopefully, this guide has provided you with all the information you need to decide on the right bed and mattress for your lifestyle. Because buying a bed is such an important investment in your health and happiness, you may find a trial period is helpful to find out which type of mattress or bed size is right for you.
Once you do find the perfect sleeping set-up, make sure to use a mattress protector to maintain it for years to come. If you didn't find what you were looking for here and suffer from injuries, it might be worth looking into some orthopaedic mattresses for added edge support. Enjoy sleeping deeply!