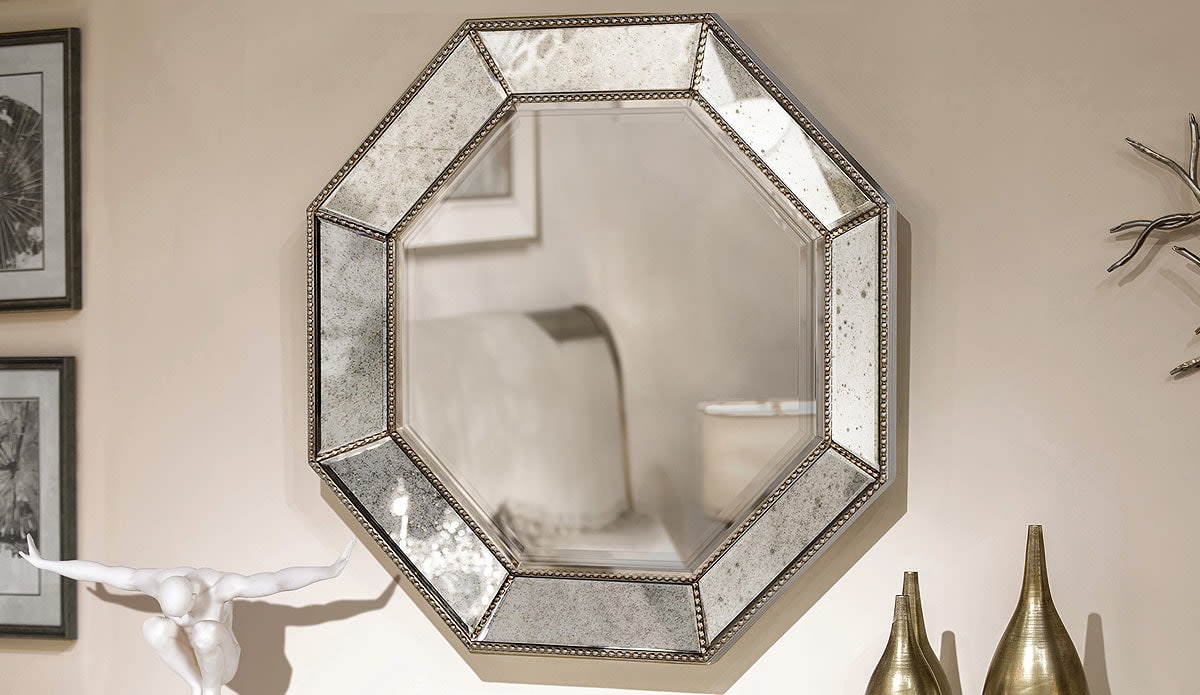 The Ultimate Guide to Mirrors
There's a lot to consider when deciding on a mirror: shape, size and material. But the work is worth doing – not only do mirrors reflect light to brighten your room, they also create the illusion of more space. So read on to find the fairest of them all.

Mirror types
Wall mirrors are designed to be hung, and come in lots of shapes and sizes suited to every room and every purpose.
Full-length mirrors / dressing mirrors are long and narrow, as they're designed to give you a full-length reflection. These might be hung on the wall, or can be freestanding.
Table top mirrors don't need to be wall-mounted, and are perfect with a dressing table.
Should I get a wall or floor mirror?
The main thing to consider when deciding between a wall or floor mirror is space – how much of it do you have? And how much of it do you use? Floor mirrors have a bigger footprint, so are better for bigger rooms. Wall mirrors work well in rooms of all shapes and sizes, but because they're mounted and don't take up any floor space, they're ideal if you're lacking square footage.
What size mirror should I get?
A good rule of thumb (or eye) is to choose a mirror that's around two thirds of the size of the furniture it's hanging above. Use a paper template to help you map out its position if you're not sure what size will fit your space – your room's colour and natural light levels will play a part too. And while most mirrors come in various sizes, the most common – by type – are listed below.
Round wall mirror (small): 500m diameter

Round wall mirror (medium): 800mm diameter
Wall mirror (small): 500 x 800mm

Wall mirror (medium): 600 x 800mm
Wall mirror (large): 700 x 1000mm
Dressing mirror: 300 x 1200mm
Full length dressing mirror: 400 x 1400mm
Leaner mirror (large): 800 x 1800mm
Mirror types for every room
Hallway
As well as making a small or narrow hallway look bigger, a mirror by your front door is great for last minute appearance checks before you head out. A rectangular mirror will give you a fuller picture, while also emphasising your room's best proportions.
Living room
Living room mirrors are largely decorative, designed to add impact to your space. Wall mirrors work well, leaving you floor space for functional furnishings. Choose a shape that echoes the lines of the furniture it's going above. For example, large, rectangular mirrors above fireplaces make a bold statement, while smaller mirrors can be used as part of a gallery wall.
Bedroom
Our waking hours in the bedroom are mostly spent getting dressed or undressed. So the obvious options are a dress mirror, a full-length mirror or a leaner mirror. And because they make rooms look bigger and brighter, your choice can enhance your room's look, as well as your own.
Bathroom
Function's more valuable than form in the bathroom. A mirror with storage is a great way to hide cosmetics and keep your bathroom tidy, while a mirror with lights will make getting ready a dream – especially in bathrooms that lack natural light.
Mirror frame materials and styles
Most mirrors have a frame – it's the finishing touch that defines the decor style they fit into. The style of frame and material you choose will impact other things too, like cost and weight. The most common frame materials are wood, glass and metal, which each come in various colours and finishes – glossy, matte, etc.
Wood framed mirrors work well with lots of design styles. To achieve a Scandinavian look, opt for light wood – in colour and weight. Solid oak, especially with a dark stain, works best in more traditional interiors.
Glass framed mirrors are more contemporary, especially when made from tinted glass in shades of smoke or chocolate.
Metal framed mirrors will add industrial design appeal, and are a good option as a decorative piece, thanks to their eye-catching finish. Options include brass, copper and black.
Mirror placement and hanging tips
If you're picking a mirror to fill a specific gap, you'll have a good idea of its placement already. Hanging your mirror above furniture, as part of a gallery wall, or in the centre of empty walls will make sure it packs a punch. But for the biggest impact, use it to maximise natural light. Arrange mirrors opposite each other, or near a window to amplify the effect.
How to hang a wall mirror
Hanging mirrors takes a bit of planning and patience, but it's worth it – if you skip a step, your dream mirror might be destined for disaster. Before you start, check you've got the right screws and wall fixings for your mirror weight and wall type:
Double picture hook - Maximum load = 5kg, for wood and plasterboard
Plasterboard fastening - Maximum load = 15kg, for plasterboard
Screw and rawl plug - Maximum load = 20kg, for brick
Hanging hook - Maximum load = 40kg, for brick and wood
Plaster or drywall isn't strong enough to support a heavy wall mirror, so make sure any screws or hooks are over wooden support beams behind the plaster.
Got a freestanding mirror that doesn't need hanging? Make sure both the wall and the floor are totally flat.
How to hang your mirror, step-by-step
Mirrors work best when their centre is at eye level, which is usually 150cm from the ground. Or, if you're putting your mirror above furniture, leave at least 15-20cm between the bottom of the mirror and the top of your piece.
Use a pipe and live wire detector to check there are no wires, pipes or studs at your chosen spot.
If your mirror has a hanging wire, mark the wall in the spot where you'll suspend it. If it doesn't, use a mirror bracket – attach it first to the mirror, then mark the wall where each drill hole should be.
If using a drill, drill a hole into the wall, insert your rawl plug, then insert a screw most of the way into that. Repeat until all your holes are done.
If using a hammer, hammer each nail into the wall, leaving the end exposed.
Hang your mirror, then check it's straight (and clean)
How do I clean my mirror?
A dirty mirror can spoil your room's aesthetic – as well as your Instagram selfies. Follow these steps to keep it looking good as new:
Grab a damp cloth. If your mirror has a glass frame, glass cleaner's a good idea too, but it's not suitable for other mirror types
Fold the cloth into quarters, and stick to using one side. Move the damp quarter in zigzag motions, from top to bottom, until you've covered every inch
Stand back, at a 45-degree angle to the mirror, to check for rogue streaks and spots – go over them with the dry section of your cloth
Water can also cause damage to the back of mirrors, advise to ensure they are kept free of moisture. If mirrors are to be used in a damp, moist environment, sealants can be purchased in hardware stores to prevent damage.