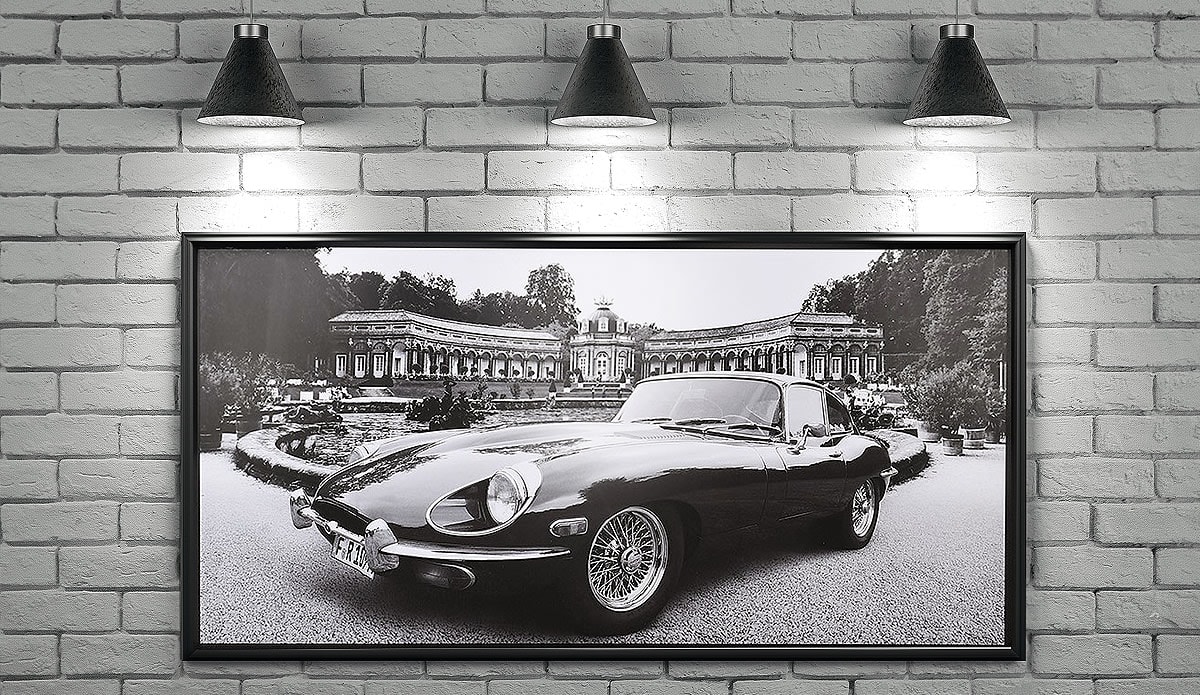 How to choose wall art and picture frames
Wall art is the perfect finishing touch to any home. From gallery walls to statement pieces, and abstract prints to vintage posters, well-chosen artwork takes your room to the next level. But there's a lot to think about when it comes to buying the right piece for your space. Luckily, we've done the thinking for you.
Wall art styles
Geometric art is pattern-led and contemporary. Typically made up of bold shapes or lines.
Abstract art is non-objective or non-representational, with a focus on form and lines, plus colour, tones and texture.
Illustrations are drawings, often done by hand.
Botanical art is floral, and sometimes photographic.
Retro art refers to reproductions (or originals) of classic or vintage prints. Common options include old-school travel posters and magazine covers.
Photography refers to any subject captured photographically.

Which style should I choose?
Your choice should be guided by the space you're putting it in – you want it to enhance your room, not distract from it. Here's the best wall art for every interior design style:
Industrial: because the industrial look embodies strong, simple furnishings, geometric prints in rich colours or monochrome will complement your style.
Modern: geometric prints work well here too, thanks to their pared-back look. Or go for a monochrome poster or map – sleek and full of style.
Classic: a classic look calls for classic wall art – photography or botanical prints work best here.
Retro: unsurprisingly, retro interiors go hand-in-hand with vintage maps and magazine covers.
Scandinavian: Pick artwork in classic Scandinavian tones like pink, grey and mustard. Think abstract prints with organic, flowing shapes.

What size wall art do I need?
Your walls are a blank canvas, but that doesn't mean you need to fill them completely. Once you've decided where you want to hang your wall art, measure the space following our steps below:
Measure the width of your empty wall
Multiply that figure by 0.57 to get the perfect art-to-wall ratio. So if your wall is 5m wide, 2.85 is your magic number
Pick the standard wall art size closest to this figure – you'll find the most common sizes below:
- 500 x 700mm
- 500 x 400mm
- 500 x 500mm
- 59.4 x 84.1cm/ A1
- 42 x 59.4cm/ A2
- 29.7 x 42cm/ A3

What are the different types of picture frame?
A lot of wall art comes pre-framed – meaning an expert has already picked the perfect size, colour and finish for you. But if your wall art is flying solo, a frame is a must. We've listed the most common frame types and materials below:
Wood frames: a lot of wood frames are solid oak, but depending on how dark or light you want your frame, you may want to consider another option. Wood is versatile and durable, with lots of finishes and mount options to choose from.
Aluminium frames: aluminium is a lightweight metal that can come in fashionable finishes like matte black and brass.
Decorative frames: decorative frames display your prints more playfully. Some of the most popular styles include floating frames, poster clip frames and large multi-aperture frames.
Choosing a frame
Choosing the right frame for your wall art is straightforward enough, as long as you do your research. Just answer these questions to nail down the key info:
What size is your wall art? Make sure you get the measurements right to achieve the perfect fit
Do you need a mount? If you do, you'll need to pick a bigger frame to fit it in
Where is your frame going? Think about the style of your room – metallic frames look sleek in industrial rooms, while wooden styles work well in classic or retro spaces
Do my frames need to match? This one's up to you. Matching your frames will give you a more put-together look. But artfully mismatched frames look good too, if a bohemian vibe is more your thing

How to hang wall art
Hanging art is easier than you might think, but before you take a hammer to your wall, make sure you've got your equipment list nailed:
- A one-nail picture hook holds 13.5kg or lighter
- A two-nail picture hook holds 22kg or lighter
- A three-nail picture hook holds 34-45kg
- Plus, you'll need a hammer, spirit level and pencil
Where to hang your wall art
The middle of your picture should sit at 1450mm from the floor for optimum aesthetic appeal. But if you've got low ceilings and want to create the illusion of height, hang it slightly higher to draw the eye upwards. Otherwise, here's how to do it:
Measure 1450mm from the floor and mark with a pencil – this is where the middle of your painting should sit
Measure the length of your painting and half it – this is A
Turn the frame over and pull the picture wire to full tension – how it would be when hanging. Measure the distance from the wire at full tension to the top of the frame – this is B
Add 145cm to A, then minus B – this is the distance from the ground that your nail should be placed, leaving the middle of your painting at 145cm when hung

Hanging wall art above furniture
Hanging wall art above a sofa:
Measure your sofa – your wall art should be about 2/3 of its width
Measure 150-200mm above your sofa – this is the perfect place for the bottom of your artwork to sit
Hanging wall art above a fireplace:
Measure the width of your fireplace – your wall art should be at least 2/3 of its width
Measure 100-300mm above the mantelpiece – this is the perfect height for the bottom of your wall art to sit
Hanging wall art above a staircase:
Measure 145cm from the floor – this is where the centre of your first picture should sit
Measure 145cm from every third step. This will form a diagonal line upon which the centre of each print should sit

How do I create a gallery wall?
Gallery walls are the most enviable way to display your wall art. But designing and hanging them can be tricky – especially if you're using lots of frames. Our top tip: imagine your collection as one big artwork – the central piece will be your focal point, and should sit 1450mm from the floor. A 50mm space between each frame is the general rule here, but it'll depend on your wall space and frame size too. If you're not sure, stick to 50mm.
Lay your pieces out on the floor to find your ultimate arrangement, and take a picture to reference when hanging the real thing
Choose a piece to be your central, focal print
Measure 1450nm from the floor – this is where the middle of your focal print should sit
Hang your focal print first
Hang the rest of your art from the middle, out – leaving roughly 5cm between each piece of wall art, and balancing the others around your focal print

How do I look after my wall art?
Wall art, prints and photographs can fade over time, especially if placed in direct sunlight. Avoid hanging them opposite windows if possible, and if they show signs of lightening, consider moving them to a shadier spot. Preserving acrylic paintings is trickier, requiring specific acrylic cleaner. We suggest speaking to a professional in this case.