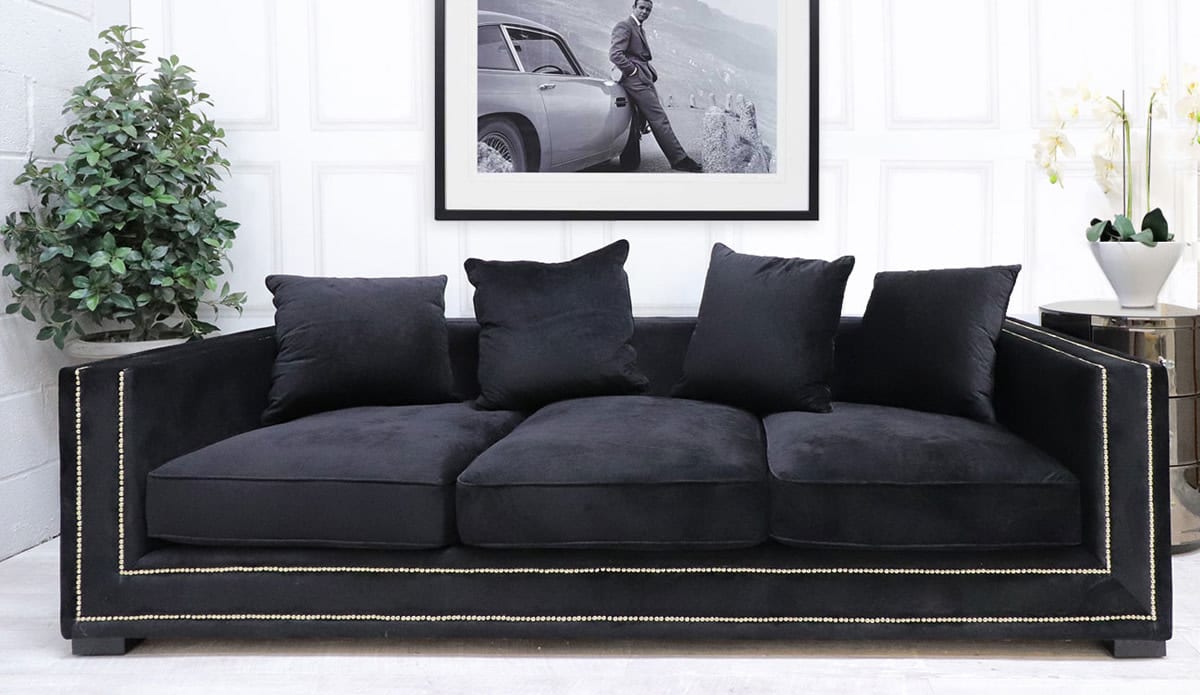 How to choose the right sofa for you
Choosing a sofa's a definite adulting activity. It's an investment in style as well as comfort, so there's a lot to consider. But our buying guide makes sofa-buying decisions easy. Check out our four key points to consider – we've answered them in more detail in this buying guide, too.
1. Decide what type of sofa you want
2. Measure your space
3. Pick a material that suits your lifestyle and colour scheme
4. Choose the right filling for you

What are the different types of sofa?
Two seater sofas - A two seater sofa is best for smaller spaces, families and couples, or for bigger settings alongside another sofa. It often has two seat cushions and two back cushions, or one long cushion with a fixed back cushion, and offers space for two people.
Three seater sofa - A three seater sofa is great for two people who want to spread out, or for seating three – it often has three seat and back cushions, or longer cushions.
Modular sofa - A good all-rounder, modular sofas can be rearranged to suit your individual space. A modular sofa usually has three seats or more, so is best for larger spaces and big families.
Corner sofa - A corner sofa has two seating areas that are perpendicular to each other – usually in an L-shape or symmetrical formation. They're great for large families who want to save space, as they're designed to tuck into corners.
Chaise sofa - A chaise sofa, or chaise-end sofa, can be any size. But it's distinctive thanks to its L shape, created by one end seat being longer than the rest. Good for those who like to lounge and stretch their legs.
Chaise longue - An occasion chair – perfect for reclining or occasional lounging, as the back scoops round to make a corner. Some of our chaise longues have arms, too. It has an extended seat, and is often used as a statement or accent piece.
Sofa bed - As the name suggests, it's a sofa by day, and a bed by night. There are a few different types – metal action and click clack are two of the most common, and refer to the mechanism used to change between sofa and bed setups. They come in lots of styles – compact versions for smaller spaces, plus more traditional sofa formats. We state on our website whether a sofa bed style is fit for everyday or occasional use.
How to measure for your sofa
To measure for your new sofa, clear the space in your room where your new sofa or sofa bed will go. Measure the maximum width and length of this space to give you an idea of the biggest sofa you can fit. You might also want to lay out card or paper in the shape of your new sofa before buying it – that way, you'll get an idea of how it'll look with your other furniture, and highlight any problems you might have moving around it.
Top tip: don't forget the packaging dimensions. Size these up against your doorways and ceiling height, plus any narrow walkways it'll have to pass through, to make sure you'll be able to get it to where you want it.
What's the best sofa for a small living room?
If you've got a small living room, there are a few design tricks you can use to create the illusion of space. A sofa that has a low back or taller legs will allow more light to flow around it, which will make your living room feel more spacious. For really small living rooms, consider getting a sofa bed – it's likely that your whole home's on the smaller side, and a sofa bed kills two functions with one furnishing.

What are the different sofa fabric types?
A good retailer will be able to offer you fabric swatches of their sofas so you can colour match it to your existing living room decor before you commit to buying. But there are lots of options. So to narrow down your choices, we've listed the most common sofa fabric types below:

Cotton is a natural fibre, which makes it breathable and soft. But it's usually more expensive. In general, cotton upholstered sofas are comfortable and relaxed. Opt for removable cushion covers so that you can easily keep your cotton sofa clean. Cotton can sometimes be prone to wrinkling, and needs proper care to keep it looking fresh.
Linen is another natural fibre, but it's more durable than cotton – great for homes with small children or pets. Linen sofas have a lived-in look, with natural creases that soften over time. Linen also has a neutral pH, which makes it hypoallergenic. Like cotton, linen is breathable which means you're unlikely to feel sticky on summer evenings in, and while its surface might 'fuzz' over time, it's resistant to fading caused by sunlight. Most linen sofas will have removable cushion covers for cleaning convenience.
Wool is made from the woven fibres of a sheep's coat – again, it's natural, though often blended with synthetic materials. Wool comes in a lot of colours, so it's great for every interior taste. And because of its pile, it adds a sense of cosiness to your living space – but it keeps cool in the summer, too.
Polyester is a synthetic fibre, so it's manufactured to be super durable – great for families and pets – and comes in a range of colours. It makes a great base for cushions and throws in different textures and textiles.
Velvet is known for its deep pile – thanks to the way it's woven, often from cotton or polyester – which means it adds luxury and warmth to your space. Velvet needs a little more TLC than other upholstery options to keep it in top condition.

Leather sofas are easy to look after, durable and long-lasting. Leather's a natural material that gets better with age – and that's no different when it comes to sofas. They're great for people with children and pets.

What are the different types of leather sofa?
Leather is treated during production to create different finishes. If you're considering investing in a leather sofa, here's our guide to picking the right one for you:
Full grain / aniline leather has a soft, natural feel and is characterised by its visible natural marks – a more authentic look. Aniline leathers are dyed but don't have a top coat, making them softer and more breathable. Aniline leathers will age over time, altering their appearance.
Semi-aniline leather is dyed with a thin finishing coat to offer increased protection, making it more durable. It's soft to the touch and has visible marks depending on the leather's natural patina. Semi-aniline leathers will age over time, altering their appearance.
Corrected grain leather is treated and buffed to remove its natural blemishes, and embossed for a more uniform texture – the process results in a sleeker finish. Because of how they're treated, corrected grain leathers are durable and resistant to fading.
Bonded leather is manmade: it's composed of leather fibres bonded together to create a uniform texture. The final result is a material that looks like natural leather, but is more budget-friendly.

What are sofas filled with?
It's what's inside that counts – and the same goes for sofas. Different sofa fillings need different levels of maintenance, and they vary in comfort and give when sat on. When picking a filling, think about how often you use your sofa, and how much upkeep you're willing to put in.
Foam filled sofas offer a firmer seat and look more structured. They'll lose about 15% of their 'firmness' in their first six months – something to remember if you're testing sofas in our showroom.
Feather filled sofas are a luxe option, and offer a more relaxed and comfortable seat. Because feather filling is natural, feather filled sofas are more expensive, but if cared for properly they'll last a long time. Feather filled sofa cushions must be plumped regularly – every few weeks – to keep them looking their best. Feather fillings are captured within down-proof inner lining containment bags. However, due to the variation in their size and weight, it is normal and to be expected that some feathers will work their way through the inner liner during use.