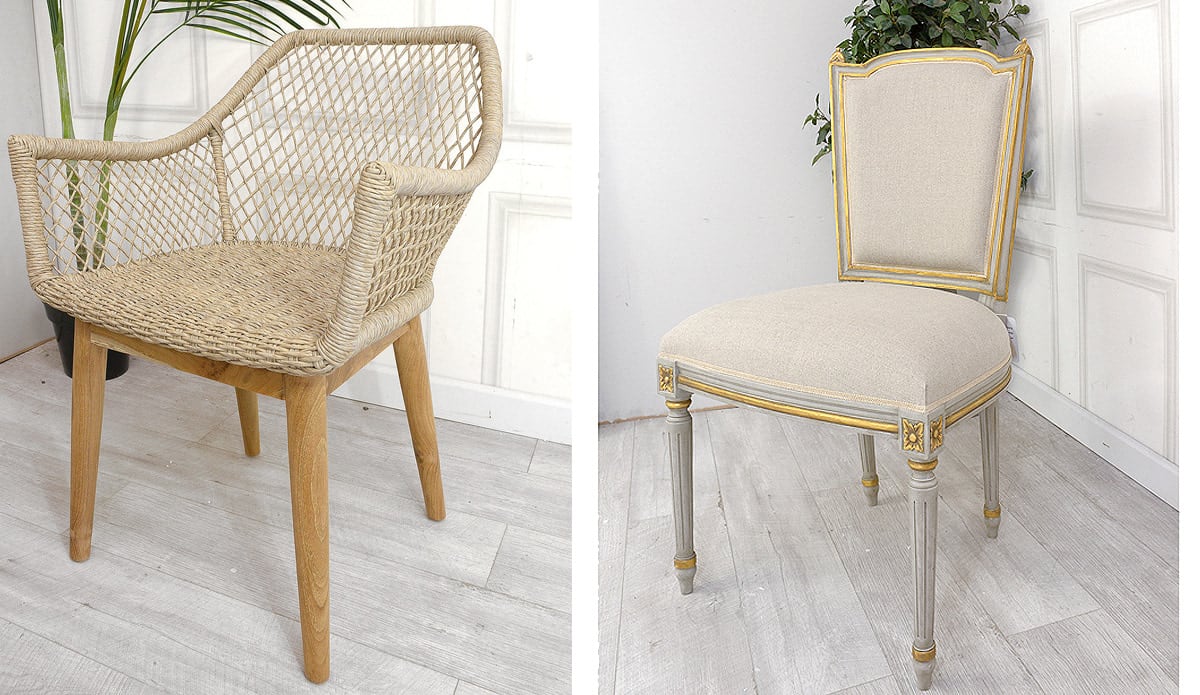 How to choose the right dining chair for you
Looking for the right chair or bench to fit your dining room? Whether you're after a uniform look or want to mix and match, there are lots of styles and factors to consider. So, take a seat – we'll answer the most common questions below.
Material and fabric
Comfort is key when finding the perfect perch. So, while chairs can be made from a variety of different materials, including wood and metal, most of ours have a combination of sprung and webbed seating. And tested with a load of 130kg, you can expect a sturdy and long-lasting seat.
When choosing the right fabric for your dining chairs and benches, consider who will be using the chair, and how often it'll be sat on. For example, non-fabric seating is a great option for children because sticky fingerprints can be easily wiped clean, while fabric-upholstered chairs are more versatile – they look elegant in a home office, or as a dressing chair in your bedroom.
PU is a faux leather that's easy to wipe clean with a damp cloth. But we recommend you take yours to a professional for deep cleaning. Durable like real leather, consider it a low-maintenance alternative.
Fabric-upholstered chairs and benches can be made from polyester, cotton or linen. With each of these types, you'll want to have them professionally cleaned and kept out of direct sunlight – too much time spent in the sun can fade their colour. Upholstered seating also offers a high level of comfort.
Velvet is known for its luxurious look, and has a soft, textured feel. We craft our velvet-upholstered dining chairs and benches from polyester. That means that they're hard-wearing and durable – ideal for regular use.

How long should my dining bench be?
The ideal length of your dining bench depends on your personal needs, (how many people do you want to seat?) and the length of your existing dining table. The standard size of a dining bench is 1400mm, but we offer benches from 1400mm right up to 2200mm. Regardless of which size you pick, one of the many benefits of benches is that you can usually squeeze another guest on.
To measure for your bench, measure between the legs of your dining table. Once you've got the correct dimensions, check out the length of the bench you've picked – it'll be clearly noted at the bottom of the product page.
Should a dining bench fit under a table?
Benches are a great option if you're looking to save space, as most are designed to fit under the coordinating dining table when not in use. However, our newest range of upholstered dining benches are statement pieces, so they're designed to sit outside of your dining table.
How do I clean an upholstered dining chair or bench?
Remove any spills quickly with a dry cloth, gently blotting the surface to remove all the liquid. Take care not to rub and don't use abrasive cleaners, as this could damage the fabric. For deeper spills, marks or stains, we advise speaking to a professional.
How do I reupholster a dining chair or bench?
We wouldn't suggest customers reupholster chairs themselves – that's best left to the professionals. But don't worry, our dining chairs are available in a wide range of upholstered and non-upholstered options to suit any decor style.
How do I stain a dining chair or bench?
We advise against re-staining any of your furniture. Our products are finished to the highest standard, and changing the finish of your purchase would invalidate your right to a return. Thankfully, we've got a wide range of styles and finishes to choose from.