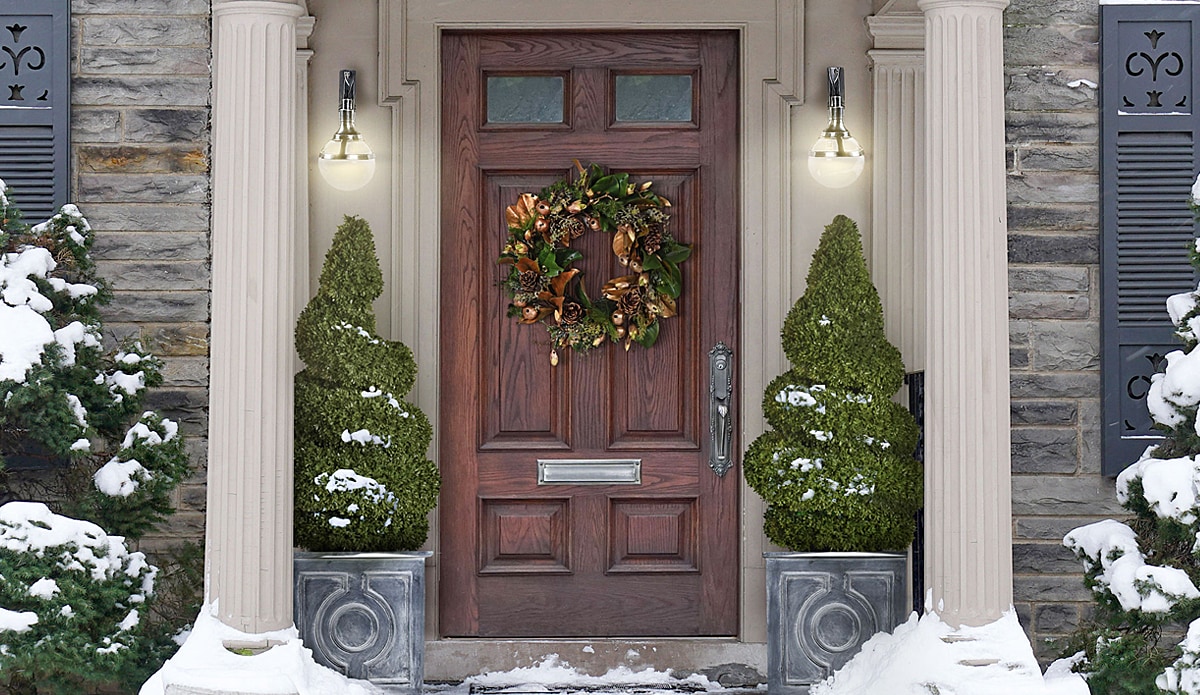 Decorate the front door in a French style for Christmas.
Here's how to achieve an effortless French style for your front porch this Christmas! Our secrets will inspire your decoration of a stunning French front door.

Christmas is just around the corner, which means it's time to decorate! Luckily, we have five French decoration ideas to give your front door a touch of French Christmas magic this year. If you also think it's time to take your decorations to the next level this year, a touch of French style for your front porch is the place to start!

A warm welcome - In France, Christmas is about bringing family together to celebrate with one another. Because your front porch or front door is the first thing family and friends coming into your home will see in the run-up to Christmas, your decoration is vital for creating a warm and welcoming entrance to your home.
Lighting is one way you can make your entrance very inviting and give your guests a welcome as warm as a door's double glazing! This year, our favourite porch lighting is the Large Brass and Rattan Lantern because of the warm golden glow it gives off and the festive rattan detailing.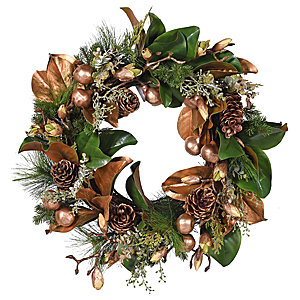 This illuminates any porch or front door and immediately sets a peaceful and cosy atmosphere in the home. Still, for a more sleek modern look, our second favourite is easily the Large Lantern and Leather Handle. This tall and sophisticated candle case gives outside spaces a put together yet welcoming look, which we love.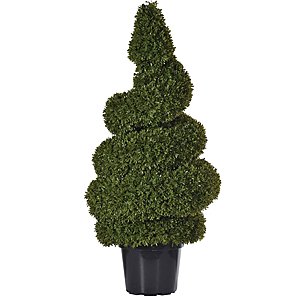 Greenery - Natural leafy greens are very popular this year. The lush green tones give off that gorgeous untouched French feeling of natural beauty and add a touch of class to outside areas. Natural light is a French secret for stunning spaces, and the same goes for your Christmas porch; in both daylight and darkness, a piece like the bay leaf plant in a grey pot will look natural.
Unlike a decoration like string lights, greenery will always make your Christmas front porch look intentional. Our pick is the Outdoor Green Spiral Topiary, which has a put-together look in pairs to achieve that stylish Christmas look. There is no choice but the Tall Bay Leaf Tree in Pot for a genuinely cosy country Christmas look. This tree looks good enough to be a gift with a large bow wrapped around the wood! Another popular choice this year for door designers is the rustic look, which we think is perfectly captured by the Fig Plant in Pot, given a modern touch with some fairy lights.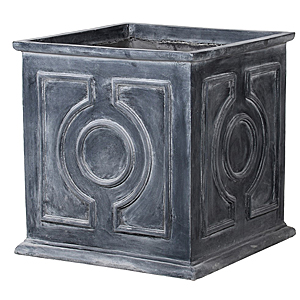 Symmetry - The ultimate French design secret is symmetry. No matter if you have thermally efficient external doors with a glazing panel or even just a composite front door, symmetry gives every different kind of house a balanced and peaceful look. It can be done with your potted plants, the wreath or even lighting, and it adds a considered elegance to every outdoors look.
Both exterior doors and internal doors feel classier when set off with matching decoration on either side. Symmetry is a simple trick but is sure to suit your home and elevate your Christmas porch to another level of French style.
Mini Tree - An easy tip for a classic Christmas look is a mini tree for your front porch! Nothing says the holidays like a Christmas tree - especially a mini one by your front door! The French call Christmas tree's 'un Sapin de noël' and traditionally decorate them with red apples and lights.
Taking inspiration from this traditional decoration could really add that classic French pop of colour with the red apples and a lot of originality and authenticity. Our top pick for a porch or front door tree is the Large Outdoor Cedar Tree.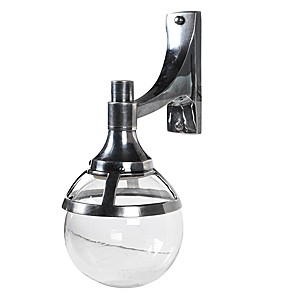 This piece has that gorgeous dark green natural colouring which Is so popular right now - and we can't get enough. This tree would work decked in lights for a dressed-up look and a left plain for a fashionable minimalist feel. Introducing a tree or two to the front porch or front door can bring the Christmas spirit to the very forefront of your home!
Colour Scheme - No one does colour coordination like the French. They manage to make everything match and complement one another without being monochromatic or bland. This can be done firstly by having a clear colour palette in mind for your porch - if you already have a holiday decorating design, make sure it is consistent with your outdoor ideas.
If you don't have a home decor colour scheme, think of the tone you want your decoration to set this Christmas: for a traditional look of red and green, for a stylish grown-up affair, play with white's and other neutrals, and for something modern and welcoming, try dark green and gold.
Once you have a clear colour scheme in place (and it matches your composite door design!), you can play with some splashes of colour in the signature French way. Perhaps with a Fuschia ribbon on your wreath or a lime green candle in a lantern, you can add some variation to your design. Use colours to brighten up your front porch and light up the entrance to your home this Christmas!
Be personal - The French are famous for their effortless simplicity and extravagant opulence- and both look beautiful! At Christmas, it can be easy to be sucked into the latest decoration ideas and trends, so much so that you might overlook some precious traditional family Christmas decorations.
This year, really tune into what you want - do you feel like going big with lavish glass designs and an explosion of lights, or keeping it minimalist and simple. The Maison de cinq blog's style is a lovely example of personal expression. However, you envision your front porch decorating, let a French attitude guide you to expressing precisely what you want. With some of these tips and a dash of Christmas inspiration, your front porch or front door area can capture the true spirit of Christmas! If you liked some of the ideas in this blog, the products can all be purchased through our links, and there are thousands more French furniture styles on the Nicky Cornell website. Visit today and get lost in our beautiful French high-quality products.