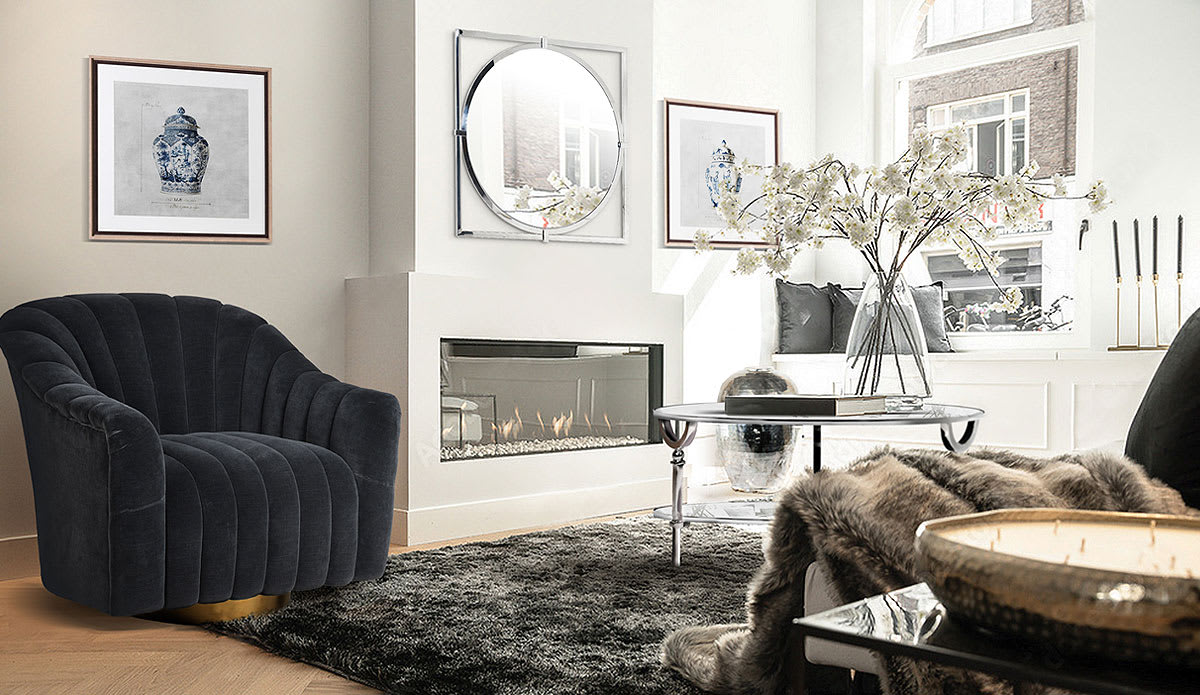 Best choices for round coffee tables
Round coffee tables are a popular choice for many homes. They can be used as a focal point to centralise a room and work well in almost any space. There are many different types of round coffee tables to choose from, so this article has a curated collection of some of the absolute best choices to make the process easier.


The Sloane Chrome Mirrored Hoop Coffee Table is designed with both style and functionality in mind. The vanity mirror on the surface brightens a room while also creating an extra storage space in your living room.

The iron and stainless steel of this piece give it a colourful, extraordinary look, while the iridescent finishing enhances these gorgeous shades. People who like a full-bodied cup of coffee to wake them up in the morning will love the energising vibrant feel of this look.

If you are looking for a unique piece with a beautiful design, then the Sea Grass and Glass Coffee Table should be at the top of your list. This look creates an effortlessly stylish atmosphere, making everyday activities like online shopping feel luxurious.

This Iron circular coffee table is an undeniably high-class product made from iron and toughened glass. Any average dining table can suffice as a place to leave drinks, but with a piece like this, dinner parties are drawn together and illuminated with a touch of style.

The Sloane Chrome Roman Coffee Table is constructed from polished stainless steel and features an elegant glass top. Its versatile structure means it will remain a staple of your interiors for an extended period of time. This piece is the perfect place to enjoy a warm roasted coffee with friends.

The Whitehall Black Round Coffee Table is a beautiful, sophisticated option for any room in your house. Made from wood and featuring an elegant faux raffia finish, this piece can add that touch of class you're looking for without taking up too much space!

This sleek grey velvet ottoman coffee table has button detailing that makes sure it can always add some glamour to a Monday morning ground coffee.

There is a sense of serenity about this driftwood glass-topped piece. Reminiscent of dark roasting campfires, this look adds a cosy homemade feeling to every space.


The sleek and modern Black Gold Round Coffee Table is illuminated by its gold-finished stainless steel. No matter what type of coffee you like in the mornings, anyone would agree that this piece would add to it.
This classic design features an elegant iron frame with wood accents and a pearlescent marble top, beautiful enough to use in any dining room.

In Morocco, where coffee drinking is a cultural staple, tables like this are a part of the daily routine. The gold finish iron frame and glass top combine to create a stunning look.

If you're looking for a statement piece to add a sense of futuristic modernity, look no further than this stunning table set.

This Modern Concrete Look Coffee Table is constructed from concrete and iron, with gold finishing for an elegant touch. The coffee bean shape centralises the room, drawing together social and professional events.
This on-trend, casual look is made from wicker cane with iron accents and is set off by a glass top for an elegant touch!
The Round Mirror Top Coffee table features a sleek, slightly elevated frame constructed from mirrored glass, making it a sure win buy.

The Oriental-style Round Coffee Table is a timeless, beautiful piece, set apart by its glossy, dark finish.

This round coffee table's rich, intricate fretwork is something you won't find anywhere else. Incorporating the use of wood inlay around a rounded surface, it is clear that this piece was crafted with care to ensure lasting beauty!
Conclusion
There are many different round coffee tables to choose from, and each has its own unique qualities that make it perfect for your home. Whether you're looking for a statement piece or something more subtle, there's definitely a round coffee table that's perfect for you!