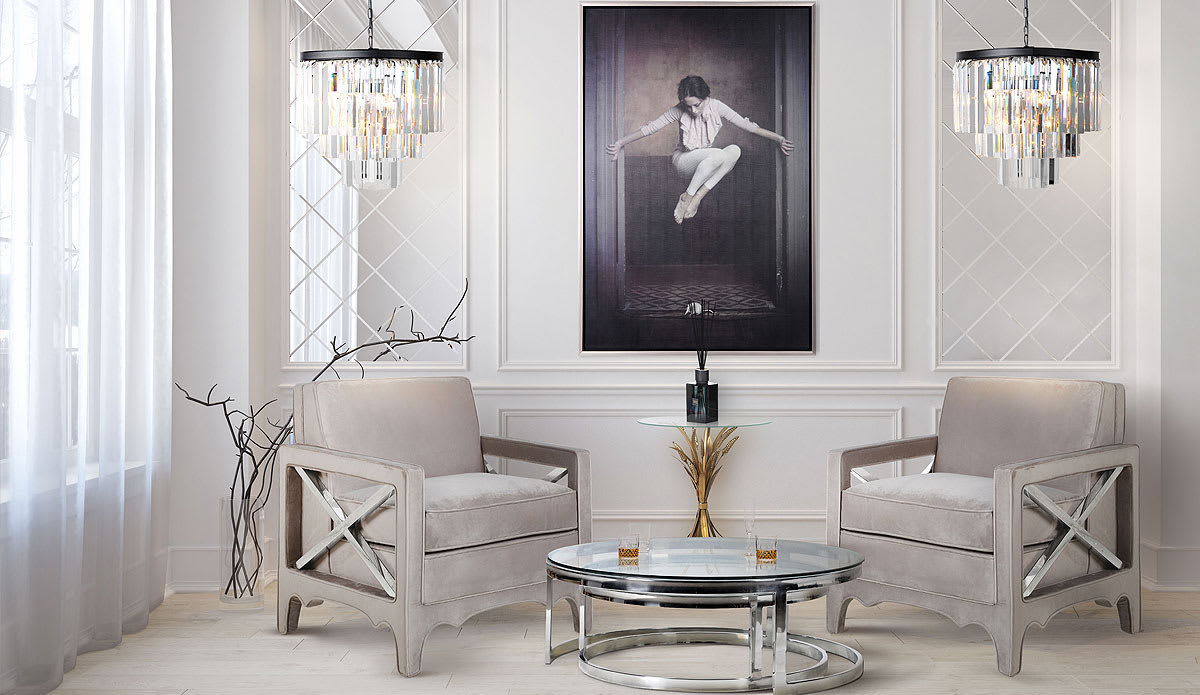 ​Best bedroom chairs that fit every budget
When furnishing and decorating a bedroom, adding a comfortable chair for reading, relaxing or simply taking a break can add comfort and style to any space. If you're searching for the perfect piece, look no further! This blog has gathered 12 of the best bedroom chairs to fit any style or budget. From modern bedroom designs to traditional bedroom favourites, you are sure to find the perfect addition to your sleeping space.

Here are the top bedroom chair inspirations for your bedroom:

The Velvet look black armchair is a stylish and comfortable piece, with luxurious velvet upholstery and a complementary black colour. As well as this, the padded arms and a cushioned seat create an incredibly relaxing experience, making it perfect for detoxing after a long day, reading a book or watching TV.
Adding a forest green studded armchair to your bedroom is the perfect way to add some character and comfort. This piece is upholstered in a soft forest green fabric designed to add an on-trend flair to your décor. The studding adds a touch of glamour, making it a perfect look for a master bedroom or guest room.

The nature-inspired shape and timeless look of the Shell Occasional design make it a popular choice as an accent chair. Set off by a buttery tone and an endlessly soft velvet finish, this is a piece for people who enjoy more luxurious experiences. Sharp corners can be easily distracted from by the rounded base, which is enhanced by the glamourous golden band.

A leopard effect fur occasional chair will give your space a wild and stylish edge. This leopard print design will add personality, while the comfortable, padded seat makes it perfect as a dressing table accompaniment. The leopard effect fur on this piece is eye-catching and will add a touch of luxury to any super king bedroom. Make getting ready feel glamorous with this expressive look!

This design is perfect for anyone looking for a touch of elegance in their bedroom. The pink pleated back is a beautiful touch that sets the whole piece off. Why settle for a swivel chair when you could be waking up to a piece as pretty as this!

The Abstract Pattern Blue Armchair is a unique and interesting piece of furniture that adds style and sophistication to any room. The rustic edges complement other wooden bedroom furniture like bed frames, bedside tables or a chest of drawers. This piece is versatile enough to work in different spaces, like the home office or in the main living space area.

Are you looking for a cosy yet stylish element for your space? Look no further than the grey faux sheepskin egg chair! This piece is perfect for relaxing after a long day, and its soft, plush fabric will make you feel right at home.

Plus, the egg shape adds a touch of a unique style that is sure to stand out in any room. So why not add the grey faux sheepskin egg chair look to your bedroom today?
If you're looking for a unique and stylish chair that will make a statement in your home, the monochrome dogtooth chair is perfect. With its eye-catching black dogtooth pattern, this chair will turn heads. Why not bring your room to life today and add this stunning piece to your wish list?


The Zigzag pattern Occasional Chair is a fantastic piece of furniture. Many people repurpose an office chair or dining chair as a seat in their room when they could add so much more with a piece as eye-catching as this one.

If you're looking for a luxurious and elegant piece, the French style gold gilt patterned armchair is perfect for you. The chair has a gorgeous gold gilt pattern, while the carved wood detailing also adds to its visual style. Anyone on the lookout for small bedroom ideas should take note of this charming yet unobtrusive piece.

The grey lounger chair is perfect for the bedroom. It has a calming design making it ideal for spending time reading or just relaxing. The gentle concave centre makes it effortless to melt into. This is a great way to invest in your restful daily routine.

Choose an Atlantis black tall chair for a touch of mystery and intrigue in your bedroom. This has an undeniably sleek and stylish design ideal for adding an element of fascination to any bedroom.
Conclusion
A bedroom seat can provide a comfortable spot to sit and relax in your bedroom and be a great place to read or work on your laptop. Hopefully, these pieces will inspire your next interior addition! There are many different options to choose from when it comes to bedroom chairs, so it's essential to find the one that best suits your needs and style.