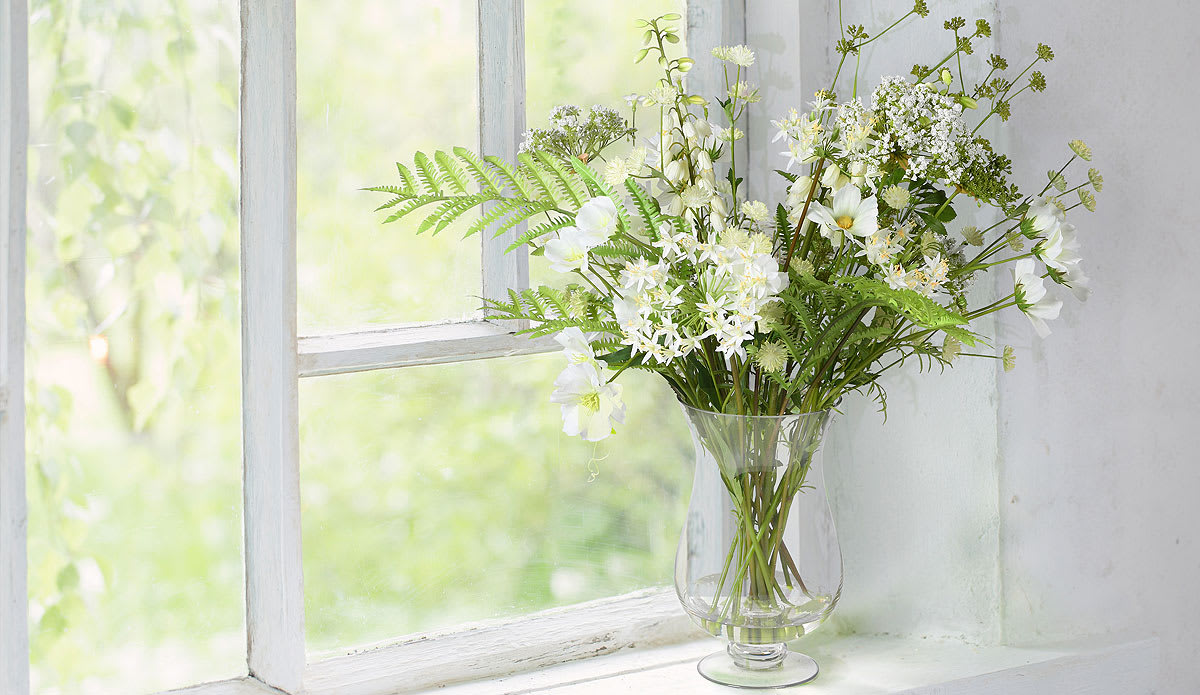 10 pretty home accessories for summer
Summer is arguably the most beautiful season, with long golden days brightened by flowers and the buzz of wildlife. While no one wants to be stuck inside on a beautiful day, there is something to be said for honouring the season by incorporating some small touches of decoration throughout your home. Here is a small sample of some of the prettiest pieces, perfect for adding a summery touch to your home.
Blue is the ultimate refreshing colour, reminiscent of a cooling opal lake or the sky on a clear August afternoon. This cushion is a pretty addition to any sofa needing a drop of colour and freshness, with a crisp white background tone perfect for matching neutral and bold colour palettes.
The tie-dye print is a cute, complimentary pattern perfect for a chill, chic vibe in homes that incorporate a calm, bohemian look. Indigo provides a sense of deep reflection, adding a lovely touch to this piece. Celebrate the beauty of summer by treating your home to this stunning piece.
Burning a candle may not seem intuitive during the intense heat of June, July and August. However, it can provide a pretty good way of keeping your home smelling fresh and delicious even through pounding heat and humid days. There is no prettier way to keep your home smelling sweet than the Medium Silver Tubor Rose Candle.
With a delicate, low-rise silver shell set off by dainty dotted wicks, this candle is an adorable and understated addition to every space in the home. Tubor rose is a honeyed fragrance with notes of candied nectar and rose. This candle perfumes the house with a refreshingly light yet sweet scent that smells as pretty as this piece looks.
Royalcore is a trend dominating this summer. From the Jubilee to Bridgeton, it's clear to see why everyone has developed such a taste for grandeur in their decor. This set of 18 dining pieces is fit for the queen's dinner service with beautifully detailed edges and cream white colour. The set has six large plates, six smaller plates and six bowls, including everything you need to host an excellent summer dinner party.
Summer is a celebration of all things bright and colourful- making this cushion the perfect way to add some life to your living room. This cushion emanates fun with a cute shape and bold electric pink patterning. Circle cushions are brilliant for adding variation to a sofa or bedspread and incredibly comfortable to use as a headrest. This is an undeniably lovely piece that fits everywhere!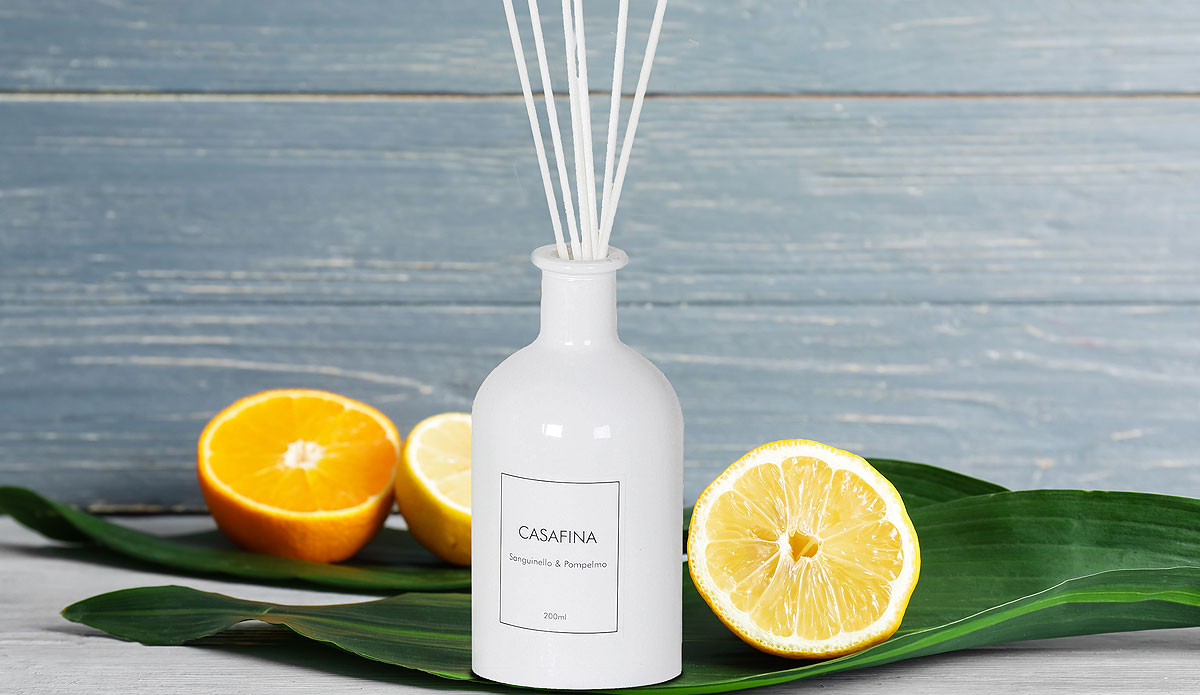 This white diffuser looks clean, modern and natural. Its versatile style is pleasing to the eye, and its scent is a delight to the senses. The juicy sweet scent of fresh orange and the musky green aroma of grapefruit linger around the diffuser deliciously. This piece smells as good as its bottle looks!
The summer solstice marks the longest day of summer, June 21. While the remaining days of summer will still be very warm, gradually, the days will begin shortening again. This throw is a lovely addition to summer as it isn't too fluffy and hot but is also thick enough to be comfortably warming.
On top of this, the beautiful mustard colour has bright and exciting vibes, perfect for summer. This throw is also a good investment as it will also work well through cooler days of the year in spring and autumn, with a muted enough tone to be suited to the aesthetic of these seasons.
Not only is this piece pretty in its own right, but it also has a habit of making special summer moments feel even more beautiful. This piece casts a warm, golden light over every sitting area with a stunning, shimmering metallic bronze finish. The rattan detailing beautifully flickers and disperses the light over every barbeque and garden party.
Available in both small and large sizes, this piece looks beautiful in the small and large pairs dotted around a garden. Again, while this piece is iconically summery, it lasts well into the colder months for decorative purposes.
The expressive fuchsia flower symbolises deep, confiding love, trust and grace. It is an earnest, fragrant flower associated with its bloom in summer and continued growth in autumn. Their bright, deep pink colour stands out beautifully in the wall prints, contrasting with a clear white background.
Wall prints are the most direct and expressive way to reference summer in your home design. Prints work everywhere, from a hallway welcoming people, to a bedroom for adding decoration or even accompanying a bathroom. This set of four looks incredible paired together and is the perfect way to add life to a plain, average large wall space in summer.
Many say that beauty and class come hand in hand. If this is true, this classy Pamplemousse Jar Candle is the epitome of beauty. Despite the sweet soft exterior of this piece, this scent is distinctly fresh. It combines a citrusy biter scent with a sweet mandarin note, emanating an overwhelmingly light, refreshing and undeniably delicious aroma.
The tasselled jar top prevents the candle from collecting dust and lends the piece a sense of refinement. If pink and pretty are the same things in your mind, this is the piece for you.
Early risers will know the familiar sound of morning birdsong as the world wakes up during the summer months. The dense exuberance of nature in summer is truly invigorating. If what you love most about summer is nature, why not capture this with our beautiful wildlife cushion.
This cushion is a lovely sample of the natural world, featuring toucans, pomegranates, lemons, flowers, leaves, lizards, and frogs. The rustic textured cushion base is comfortable and contrasts with the bright prints. The dark-edged piping is a demure addition. Go for it and add a little bit of summer to your sofa.
If you liked this selection, why not explore the rest of our site? It's brimming with beautiful products, perfect for celebrating the beauty of this summer season. We take enormous pride in our selection of products, all of which are of the highest physical and visual quality.
We have extensive lines perfect for summer, from our French Style Olive furniture to our beautiful Brighton range, ideal for larger pieces that look great in summer as well as the rest of the year. Your home deserves only the best, and we ensure that everyone receives exceptional service. Take a look today and begin to build a space that feels like an expression of your own personal style and feels like home.